Alloggiamenti, affitti , Ammobiliati in affitto in Auvergne
Gites and Furnished rooms

Benefit from an independent,equiped housing and any comfort to leave the time of the holidays. Often near numerous activities, you can take advantages of it as you like. It is the ideal formula in family or between friends to leave a weekend, a week or more!



Iscrivere il vostro punto turistico in Auvergne é gratuito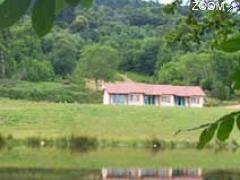 garret albert
les cros
63250 Arconsat (Puy-de-Dôme)
3 gîtes récents, au coeur des bois noirs, devant un étang privé
pêche, détente, calme, repos

Lafont
La guelle
63580 Chaméane (Puy-de-Dôme)
2 to 3 Salon people with kitchen equipped Garage contiguous Court 1 room bathroom WC washes linen central heating (not accepted animals)

THIBAUT
Le bourg
63880 Saint-Gervais-sous-Meymont (Puy-de-Dôme)
Tel : 04 43 57 77 27
- Cellulare : 06 64 44 48 35

HEBRARD Annie et Jean Pierre
Pressoires
15120 Junhac (Cantal)
** In Auvergne, castagno regione meridionale, Cantal, 30 km Aurillac nel deserto tranquillo, le case in legno con piscina riscaldata presso l'azienda agricola, 3 Clévacances, 1-6 pers., comfort, con ...

SALAT
FRAISSINET
15100 Saint-Flour (Cantal)

jacqueline boyer
Costes-Cirgues
43100 Vieille-Brioude (Haute-Loire)
Villa restaurée à neuf et dans la tradition dans un petit village pittoresque dominant l'allier et Vieille Brioude. De 6 à 8 personnes

Bironneau
Place de l'Eglise - St Pardoux
63680 La Tour-d'Auvergne (Puy-de-Dôme)
Tel : 02 51 48 41 88
- Cellulare : 06 76 15 54 26

Bassa Stagione 325 €

Media stagione 355€ a 375€

Alta stagione 455€ a 485€

Vacanze scolastiche 375€ a 485€

Weekend 190 a 245 €
ARNAUD-VERGNE
260 Lac Chambon
63790 Chambon-sur-Lac (Puy-de-Dôme)
Tel : 04 73 25 13 66
- Cellulare : 06 87 79 87 83

Iscrivere il vostro punto turistico in Auvergne é gratuito