Heritage, visit, Castle, Fort dans le Puy-de-Dôme
Add to my travel notebook
Register your touristic spot dans le Puy-de-Dôme it's free (in French)
See accommodation nearby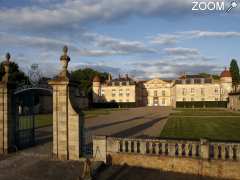 TVORG-767921
Update informations

Disponibilités
Anne-François de Lastic
7 place du Château - 63500 Parentignat
63500 Parentignat (Puy-de-Dôme)
Phone : 04 73 89 51 10
- Fax : 04 73 89 32 20
http://www.parentignat.com

www.facebook.com/Parentignat
The château of Parentignat was built between 1707 and 1720 by Anne-Francois de Lastic, Marquess of Sieujac and Captain of a Royal infantry regiment, on the foundations of an old fortress. The chateau remains in the family to this day and is the object of an extensive restoration programme.

The landscaped gardens can be viewed from the terrace at the back of the château, which is lined with heirloom roses and fantastic orange trees in their original 18th century pots. The gaiety of this green and pleasant "natural" garden provides a stark contrast with the formal geometry of the lawns in the front courtyard which have been restored recently, along with the avenue of lime trees leading to the chateau's entrance.

The château has always been renowned for being so sumptuously appointed. Its furniture and art collections have always been exceptional. Not for nothing did the 19th century chronicler Henri Pourrat dub Parentignat "the Little Versailles of the Auvergne". Parentignat survived France's Revolution intact and the family and each generation of owners has contributed to Parentignat's museum-quality art collection.

The chateau houses a great quantity of paintings, many collected by the current owner's father, Georges de Lastic, in the 20th century. These include works by Nicolas de Largillierre, François Desportes, Carl van Loo, Hyacinthe Rigaud, Elisabeth Vigee Le Brun, and others.

The château gives the visitor an opportunity to discover a spectacular suite of salons on the ground floor, which finishes at the library with its 20,000 volumes. The first floor comprises the ballroom, the formal bedrooms with their original furniture and a consequential part of the art collection.

A walk around the park will allow the visitor the chance to enjoy the beautiful gardens and the little 19th century pavilion, decorated with petals of pinecone.
Register your touristic spot dans le Puy-de-Dôme it's free (in French)