Accommodation, Bed and Breakfast en Haute-Loire
Add to my travel notebook
Register your touristic spot en Haute-Loire it's free (in French)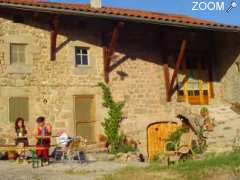 TVORG-3873
Update informations
Low season of 43€ to 53€

Average season of 43€ to 53€

High season of 43€ to 53€

School holidays of 43€ to 53€

Restaurant Menu of 8 to 15 €
Disponibilités
Combaz
Le Bourg
43300 Charraix (Haute-Loire)
http://www.chezlavierzou.free.fr/
In the 21st century, you can still come and relax in unique l'Auvergne -a volcanic region, off the beaten path, located in south-central France- in a small village of 30 inhabitants, at an elevation of 900 meters.
Built in the 19th century, this house has been renovated with natural materials (lime, sheep wool, wood... ), and it is far away from pollution and stresses of the city. We don't even have a television!
Our intention is to suggest a simple and complete menu (apetizer & digestive drink).
Register your touristic spot en Haute-Loire it's free (in French)