Accommodation, Self catering dans le Puy-de-Dôme
Add to my travel notebook
Register your touristic spot dans le Puy-de-Dôme it's free (in French)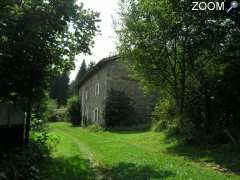 TVORG-725831
Update informations
high Season 65 €

low Season 55 €



Disponibilités
Marije de Nood
Nieuwendijk 85
63630 Saint-Germain-l'Herm (Puy-de-Dôme)
Phone : (0031) (0)6 410 41 804
http://www.fietsrijk.nl

www.facebook.com/fietsrijk
Surrounded by the forests of the Livradois-Forez is our beautiful twohunderd years old farmhouse with a large gîte for 5 people and a small cottage for 3 persons. Discover the green heart of France with its cheeses, Romanesque churches, cold red wine, edible mushrooms and just a couple of tourists. The arrival and departure dates are not fixed. The cottages are ideal for walkers and cyclists.

The large gîte is suitable for up to 5 to 6 people and is tastefully decorated and colorful. In the living room is the original fireplace with bread oven and a wood stove. The kitchen has extras like a dishwasher, oven and microwave. The cottage has three bedrooms and two toilets. In the bathroom there is a washing machine and dryer. The library offers a wide selection of books, DVDs and videos. The covered terrace has a picnic table and a barbecue. The south facing garden has a fireplace.

Practical
- Free Wifi
- Non Smoking
- Pets allowed
- Price per night (excluding July / August): 55 euros
- July and August: 65 euros / night
- Cleaning: 50 euros (two persons, one bedroom)
+ 25 euros for each additional bedroom
+ 20 euros for pets
- 14 nights: 720 euros (July / August: 850 euros)
- Including energy, linen and tourist tax

Information and reservations
- For the gites is no deposit payable
- Payment conditions: 50% upon receipt of the invoice and the remaining 50% one month before arrival date
- If you cancel the booking only the cleaning costs will be reimbursed

www.fietsrijk.nl
fietsrijk@hotmail.com or (0031) (0)6 410 41 804
Marco van Wageningen & Marije de Nood

General
The gîtes are situated at 1040 meters altitude in the national park Livradois-Forez, where volcanic hills alternate green valleys and moors. The bakery and two supermarkets are within 3 kilometers from Saint Germain l'Herm. Worth visiting include the volcano Usson village and medieval towns such as special Le Puy-en-Velay, Issoire, Ambert and La Chaise-Dieu with impressive cathedrals and great museums.


Register your touristic spot dans le Puy-de-Dôme it's free (in French)